Better ergonomics, greater safety and efficiency
They safely and quickly extinguish fires without any risk of spreading flames as the air speed pushes them to the ground already consumed by the fire.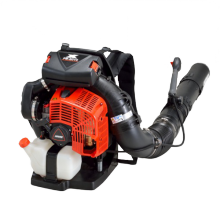 High-powered backpack blower. With 44 newtons, and airflow of 1,818 m3/h and an airspeed of 95 m/s. Includes a back cooling system with built-in air intake for more comfort when doing fire extinguishing work. Reliable for up to 8 hours of daily work with an unbeatable performance/power ratio. Equipped with a professional low-emissions Euro 5 stage 2-stroke engine for lower fuel consumption and exhaust emissions.