Protection gloves for Wildland fire
Protective gloves for forest fire fighters with reinforced palms. Specially recommended for all types of work requiring good mechanical-thermal protection as well as a good level of comfort.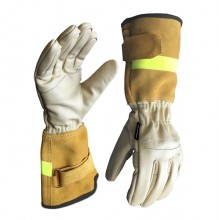 Firefighter Gloves vft to protect hands from any impact or radiation to heat. Ergonomic pattern, specially designed to work with manual tools thanks to the independent thumb pattern which respects the natural position of the hand, increasing its comfort.
Standards: EN 659:2003+A1:2008+AC:2009