Maximum efficiency in extinguishing wildland fires, without damaging the environment
The water added with foam concentrates penetrates the solids in greater depth, allowing to multiply the extinguishing efficiency of the water and preventing the fire from re-igniting. Applied as a protective barrier in wildland fires, they make the vegetation non-combustible, stopping the spread of fire. The foam concentrates sold by Vallfirest are totally biodegradable and harmless to animal and plant life.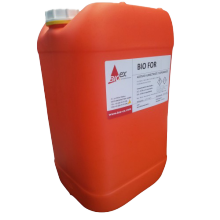 The foam concentrate Bio For N is an ecological solution to extinguish efficiently wildland fires, with wetting and foaming properties.
Wetting power: With its affinity for solids, BIO FOR penetrates and extinguishes embers at depth. This specify increases its extinguishing properties and prevents the fire from re-igniting.
Foaming power: BIO FOR can be applied as a protective fire barrier. Applying a broad strip of BIO FOR during a forest fire, for example, renders the vegetation incombustible and stops the fire spreading.