Respiratory protection devices designed to protect the face and respiratory tract in wildland fire operations
There are unexpected extreme situations where the usual tools and protection equipment are not enough. Along with fire-resistant shelters, a breathing apparatus that provides the clean oxygen necessary to save oneself from entrapment is needed.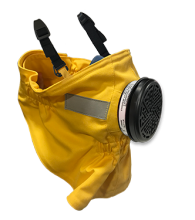 Standards: EN ISO 11612:2015, EN ISO 13688:2013, EN 15614:2007, EN 140:19998, EN 143:2004+A1:2006.
Replacement filters and respirators
Particulate filters and respirators for the vft mask and the vft Xtreme Mask
More information