Mercedes Bachfischer
Bachelor in Environmental Management. 10 years of research in the field of forest fires. Researcher and data analyst at The Emergency Program.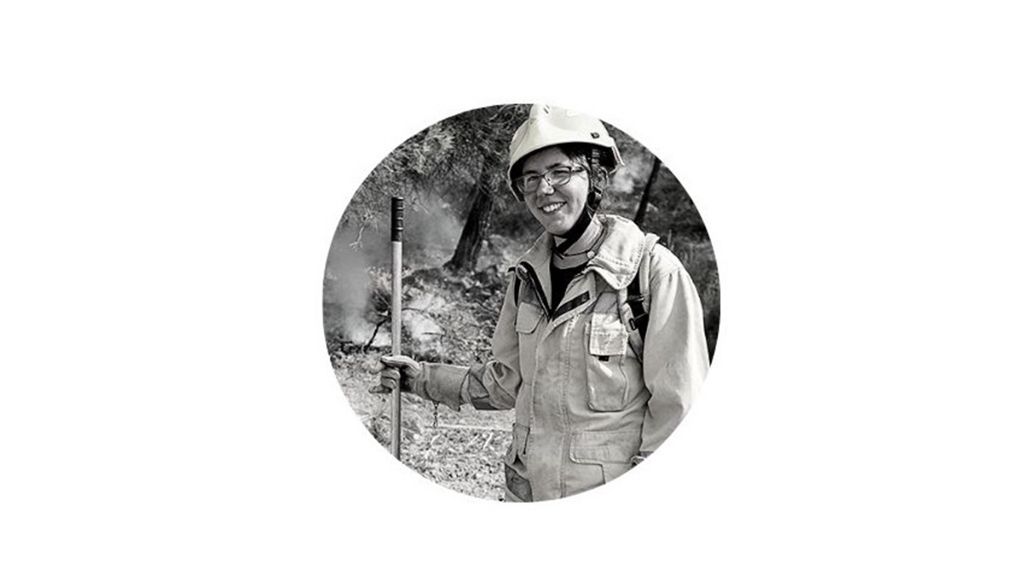 Argentina has experienced a very severe 2020-2021 fire season. After an abnormally dry and hot period, the Córdoba mountains saw five months of fires without truce, which devastated more than 300 thousand hectares. On March 7, in the Andean Region of Parallel 42, in Patagonia, large fires were registered with extreme characteristics and serious socio-environmental consequences. We spoke with Mercedes Bachfischer, Argentine fire analyst, to understand the keys to this phenomenon.
M.B.: I was born in Buenos Aires, right downtown, but when I was a teenager I moved with my family to the south of the country, to the town of Lago Puelo, in Patagonia. We lived in a mountainous area surrounded by forests—primarily native trees—which is where wildfires are expected to occur. Fire stopped being a phenomenon I only saw on the television and became part of daily life in my surroundings. Over the course of these years, I witnessed several quite large fires, which destroyed part of the slopes. When I started university, I realized I wanted to contribute in some way to protecting this natural space, so I decided to specialize in fires.
vft: And you started to work as a fire analyst.
M.B.: I finished university and started working in the technical area of the Río Negro Forest Fire Prevention and Firefighting Service (SPLIF). During the year, I did prevention and pre-suppression work, collecting data and updating the institutional GIS, doing assessments on risks, the state of vegetation... and when fires occurred, I was part of the analytical team at the control post, creating operative cartography and providing the information needed to take advantage of resources. We actively worked with other provincial institutions (in our and the neighboring province), National Parks and the National Fire Management Service, because we were in an adjacent region and fire does not respect political borders.
After years of research, they offered me the chance to travel to Spain and work with the TEP team, the first forest fire online training program. That was another leap forward in my career. I expanded my horizon to work internationally, to have a global focus and try to respond to issues at another scale. Last year, I had the opportunity to analyze the huge events that happened in Bolivia, Australia, California and Argentina.
vft: What type of information do you work with? How does a GIS (geographic information system) work?
M.B.: GISs are tools that let us collect, process and manage information from different sources. We have vector data (polygons, lines and points) that may represent roads, watercourses, houses, fire perimeters or rasters (satellite images). We use the latter—for example—when there is an ignition, to go to the hot points, looking for the areas where the satellite detects temperature anomalies. Based on remote sensors, we can recreate the isochrones, meaning the progression of the fire perimeters. We can also count the burned areas, creating severity maps, analyzing the funnels of smoke to see if they display PyroCb (pyrocumulonimbus).
I have also worked occasionally with simulators like FlamMap, Prometheus and Wildfire Analyst.
vft: How precisely can you predict the spreading of wildfires?
M.B.: We analyze the weather forecast on the surface (wind, temperature, etc.), but also the state of the atmosphere at different levels, to see if it's stable, whether there are high winds or an entry of humidity. All of these variables also help to understand how the fire could end up behaving in the immediate future.
There is a global platform called GWIS that lets us track fire hazard rates.
One of them is the drought code, which gives us an idea of how the season is evolving in terms of the moderate and course fuel loads available. There is also an index for determining the fine-fuel moisture content. With these data, we can estimate the probability of fire and the type of fire we could have. What is most interesting is that this platform can display anomalies that occurred in past seasons, identifying sites where significant changes are happening where we will need to be alert to the possibility of extreme or uncommon events.
vft: What happened this year in Argentine Patagonia?
M.B.: There were two fifth- and sixth-generation wildfires. They were simultaneous and high intensity. Two fires with similar shapes and areas, but very different from each other. In terms of the affected area, we're talking about wildfires of close to 15,000 ha, with the difference that one burned for three months and the other for 9 hours, with environmental and socioeconomic impacts never seen before there. The first ignited in the Costa del Tornero complex and in Boquete, in El Bolsón, in the Río Negro province. The other started in Chubut, the province to the south of Río Negro, in Las Golondrinas.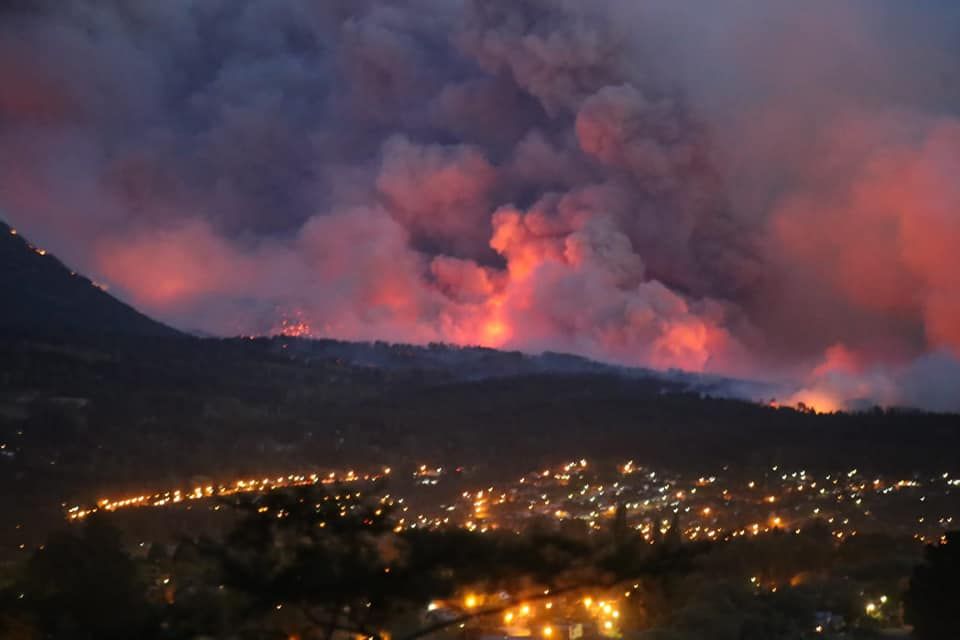 Photo: Infor Chubut
The fire on Costa del Tornero started at the end of January. The huge flame intensities and fast fire runs over the forest masses and pastures took us by surprise. On the worst day, the fire front advanced 9.13 km in half a day. To put this event into perspective, we could say that the length of the wildfire on that day grew to the size of 76 football fields. This same fire reactivated at the beginning of March, once again propagating with extreme behavior.
On March 9th in the afternoon, in the same district of Río Negro, two ignitions occurred that within hours had turned into a single fire: that of Las Golondrinas-Radal. This second event behaved much more explosively. We weren't only talking about burned woods, but also interface areas, with the loss of over 500 homes and the deaths of three civilians. At the critical time, I managed to log a speed of 10.4 km/h.
vft: Why did it happen?
M.B.: The conditions were present for large-scale fires to start. At the end of January there was a heatwave and almost no rainfall, which lasted one and a half months. Although the summer is the dry season in this region, the conditions were heightened this year. This made all vegetation dry up.
And during the nights in the last month, there were no marked drops in temperatures. This had a significant impact on the fuels' water stress. We aren't only talking about fine fuels (grasses, pine needles...), but also medium and course fuels (picking up speed and intensity in the fire runs if ignition occurred). In March, the technical area of the Fire Management Service warned that there was danger due to the entry of a cold front from the Pacific. This sum of factors in an area with developed vegetation and interface areas on the slope of a hill, with an important density of buildings and surrounding vegetation, not always managed, was the setting favorable for causing extreme events.
vft: This year in the Sierras de Córdoba the fire season has moved forward and beat intensity records. Is the fire regime changing in Argentina? Can we expect more extreme phenomena in upcoming years?
M.B.: Yes. These fires, which require whole neighborhoods to be evacuated and destroy everything in their paths, advancing at great speed and exceeding the extinction capacity of emergency systems, were something we were used to seeing recurrently in California. However, in recent years they have occurred in Portugal, Greece, Spain, Chile, Bolivia, Australia... and this year it was Argentina's turn.
To cope with climate change, ecosystems, especially in specific regions, have to adapt to new environmental conditions. If we don't manage our landscape and help it become more resilient, fire will do it for us. Society must be prepared for these changes and adapt, learning to coexist with fire. Prevention is the best solution to prevent large disasters from occurring. We must work with an awareness of what could come in upcoming years. It's not only a matter of procuring more extinction resources, but also about having more knowledge, applying another type of strategy. The current scenario is complex. We still don't understand some of the phenomena that arise in new wildfires, which makes anticipating them and simulations difficult.
vft: What is the main characteristic of sixth-generation fires?
M.B.: We are talking about very fast fires, which affect large areas in very little time, with the mass generation of secondary sources and the release of a lot of energy into the atmosphere, with a funnel of smoke that ends in a pyrocumulonimbus… columns of smoke that can rise vertically up to around 10 km. The intensities they generate mean they can modify the climate around them. Local meteorology is no longer what dominates the fire and influences its behavior. Wildfires can generate intense winds, with changing directions (which sometimes cause firenados or fire whirls) and even modify the high atmosphere. Propagation speeds and intensities are extreme, with frequent changes in the fire advance direction. They are unpredictable fires that exceed the capabilities of suppression systems.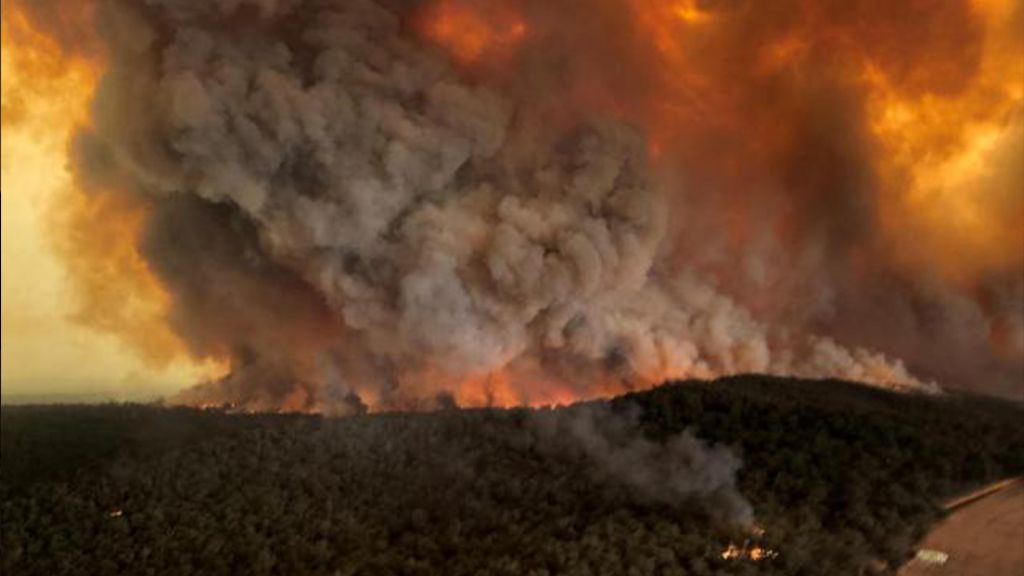 Photo: Agrolatam
vft: How can we prevent these fires?
M.B.: In recent decades, land uses have changed drastically. Rural areas have been progressively abandoned, and vegetation has been growing uncontrolled. We have lost those mosaics of discontinuity that are so valuable when extinguishing fires. Moreover, urban planning with no knowledge of or planning for the territory is a danger. Social and political awareness must be increased. Understanding that living in interface areas can entail great risks if the territory is not managed properly. Different studies show that globally forest fires have decreased. However, they have become mainly concentrated in the areas between cities and forests. We see this clearly in the case of Argentine Patagonia: the area where the fires occurred was the region of Epuyén, El Hoyo, Lago Puelo and Cholila on the outskirts of El Bolsón. Greater attention must be paid to these areas, because the majority of vegetation fires start there.
Prescribed fire is a great tool to reduce the fuel loads and continuity without harming the environment. When emergency systems do controlled burns, they bear the prescription window closely in mind, seeking the right time and intensity required to not affect protected species and conserve the health of the ecosystems. Prevention is essential for preventing large wildfires to occur that could affect the entire forest mass, even spreading into organized areas.
vft: Any future prediction?
M.B.: More than prediction, a warning for the future. We have analyzed fires in Norway and Iceland in recent years, sites where severe behaviors and significant flame lengths would not be expected. Close attention must be paid to these anomalies and awareness raised that extreme situations could end up occurring in uncommon environments.
vft: In Spain, you have analyzed the wildfires in Chile, Bolivia and Australia. What enabled this international work and remote support?
M.B.: International cooperation is very interesting because multidisciplinary teams can be formed. The exchange of information between forest engineers, meteorologists, physicists, geographers, biologists... who also work in different parts of the world and in settings with very different fires, lets us cross-reference information for common learning, maximizing global knowledge and expertise on the phenomenon of fire.
We thank Mercedes for the time she shared to help us understand the new wildfires affecting Argentina.