Canada is known as the "Land of a Thousand Lakes" due to its large number of bodies of water. However, the reality is that Canada has many more lakes than a thousand; it is estimated that there are more than 2 million lakes across the country, which form a major water network in North America.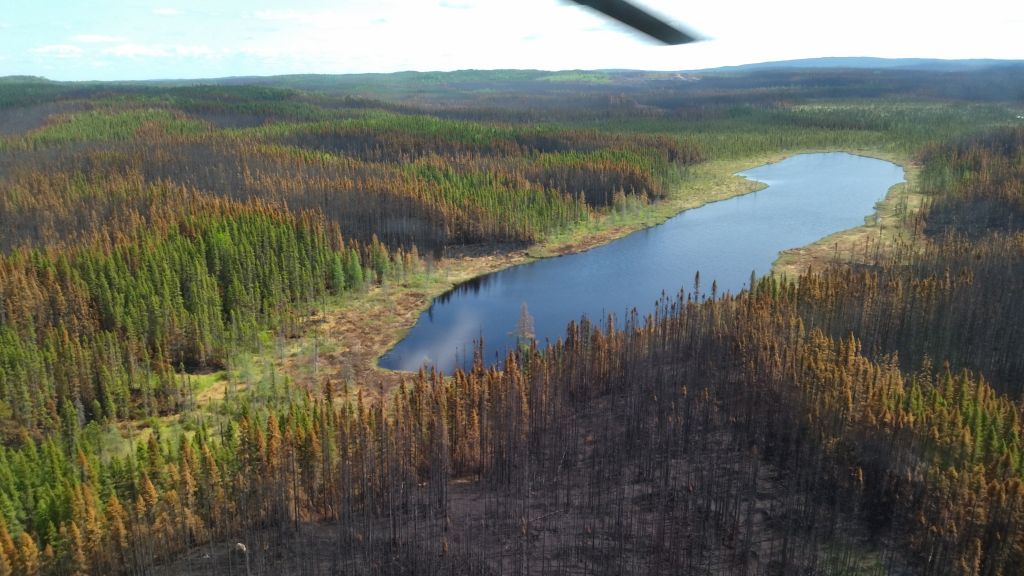 Source: @SPEERETH
A fire season that is nowhere near over
Nevertheless, it wasn't the lakes that made Canada's headlines, but the wildfires that have unleashed an alarming scale of crisis, which have caused almost four consecutive months of wildfires.
As we previously explained in our blog, climate change and El Niño have made 2023 a particularly hot year, and a similar dynamic is witnessed across the globe. But what is so special about this Canadian episode?
The deseasonalization of wildfires
The magnitude of this episode is staggering, with more than 17 million hectares burned, exceeding the 10-year average by more than 600%. This devastation has led the Canadian government to request international assistance, and more than a dozen countries have assisted in fire suppression operations.
What makes this situation even more concerning is that the wildfires have affected both eastern and western Canada, and have started earlier than usual, in anticipation of the normal peak occurrence in July and August. This is due to exceptional environmental conditions, with an unusually warm and dry weather pattern that has prevailed for months. The year has been characterised by record high temperatures and a persistent lack of rainfall, which has created a favourable environment for rapid wildfires that exceeded fire suppression capacity.
The multitude of challenges that wildland firefighters have faced
Experience gained while working in the field reveals additional challenges. Firefighting crews have had to deal with a complex geographical environment: inaccessible locations with dense vegetation, lakes, peat bogs and even the presence of bears. All this, combined with a wildland fire season that started at the beginning of May, has had an impact on the firefighter's physical condition. In turn, they have also had a great ally on their side, the lakes and natural water sources.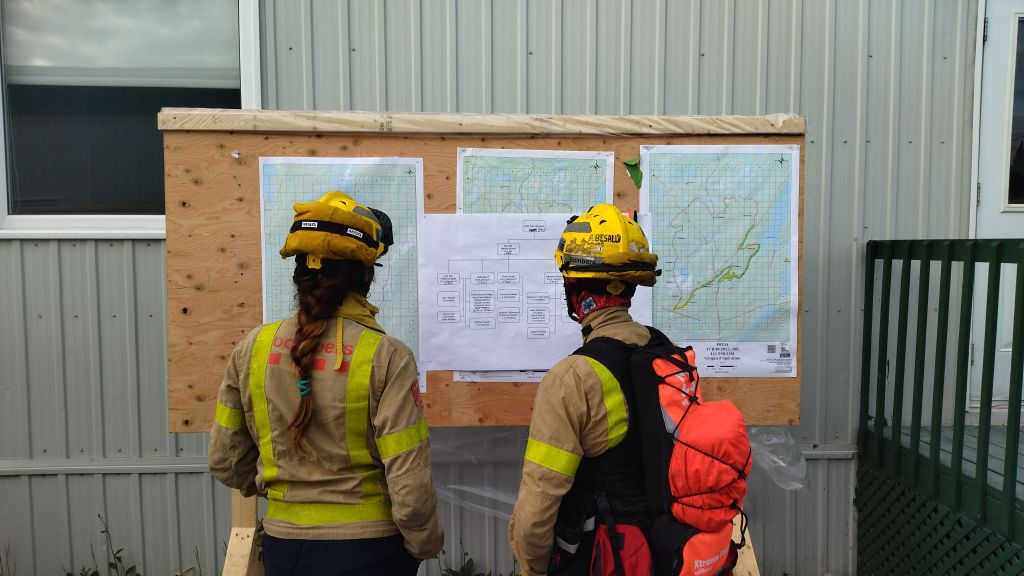 Motorised pumps, an essential tool for firefighting tasks
The response to this crisis has involved a variety of tactics and operations. We have already mentioned the possible solutions found in the wildland firefighter's toolbox, but one of the key tools that stands out is the portable motor pump.
Although the abundance of lakes provides almost unlimited use of water, it also makes it difficult for firefighters to reach the fire perimeter and, in many cases, requires the deployment of long hose lines. According to Albert Besalú, a firefighter from the Grup d'Actuacions Forestals (GRAF) who worked on the Canadian wildfires: "In many instances, we had to be transported by helicopter to the location of the wildfire, carrying the motor pump, hoses and fuel needed for the long days of work. In these scenarios, it is crucial to have a pump that provides the required pressure and flow, although the topographical features of the area where we worked were relatively flat and we did not have many problems with water limitations. Having a wide variety of motor pumps is essential in such situations."
Vallfirest portable high-pressure motor pumps for wildland fires
At Vallfirest we are aware of this reality, and thanks to listening to the demands of wildland firefighters, we have worked on a wide variety of motor pumps.
The BH1 portable motor pump: it is the best option especially for the most inaccessible locations, enabling wildland firefighters to carry the 9.5 kg motor pump in their backpack or to be transported by helicopter with it.

The BP4 portable motor pump and the BH2: if we find ourselves in very uneven terrain, both the BP4 and the BH2 motor pumps, providing 26.2 bar and 17.1 bar respectively, would provide us with enough pressure to exceed all hydraulic limits without affecting the flow rate.

The BH4 portable motor pump: In accessible locations where a motor pump with maximum power is required, we will opt for versions such as the BH4, a 4-stage motor pump with the best performance, which offers 28.8 bar and up to 397 l/min of maximum flow.
Ultimately, we have thought about all the situations that may require the use of a portable motor pump during a wildfire. From the lightest ones that can be transported in a backpack or helicopter to the most powerful ones that can be loaded on pickups or trailers. Check out the available high-pressure suppression kit solutions here.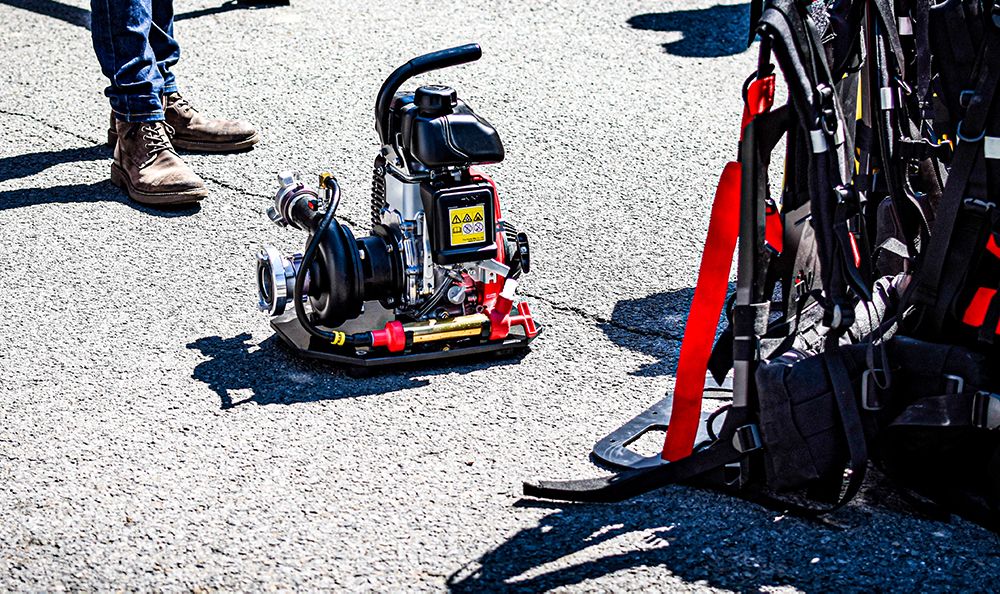 What does the future hold for us?
What does the future hold for us? At the same time, these scenarios will become increasingly common. Places like Siberia, Patagonia, Sweden, or even Germany, to name just a few examples, will see a significant increase in the amount of burnt hectares. And if one characteristic sets these areas apart from more Mediterranean regions, it's the possibility of having water points in the middle of the forest, whether it's through lakes, rivers, or other options that allow the use of a portable firefighting pump.
This episode of wildfires in Canada is a reminder of the importance of preparing for extreme weather events, such as droughts and recurrent heatwaves. The ability to respond to and manage fires of this magnitude is crucial to prevent the collapse of firefighting services and ensure the safety of society. As climate change continues to impact environmental conditions, it's essential to learn and anticipate these increasingly frequent challenges.
We invite you to explore the range of portable firefighting pumps from Vallfirest HERE.
This content has been possible thanks to the Vallfirest x The Emergency Program agreement​.